Tag: tai chi masters
The magnificent Opening Ceremony of the 2008 Olympic Games



10 August 2008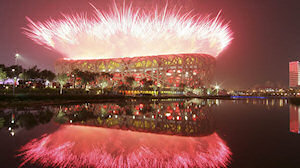 From the synchronized beats of 2008 drummers to the 2008 Tai Chi masters to the beautiful over-sized picture painted by dancers and the feet of thousands of Olympic Athletes, the Beijing Olympics began with a beautiful program that incorporated thousands of artists from across China.
Although the children's choir was used several times, no other dancer or musician was used twice in the beautifully choreographed program. Each element of the Opening Ceremonies included precision and beauty testifying to many hours of practice on the part of the Chinese. Enacting a program of color and variety, the Chinese sought to bring years of tradition into the 21st century and their hopes for the future.
The Living Palette was drawn by artists as they danced on the canvas. They used the choreographed dance to the well-performed music to write ancient symbols on the canvas and draw a silhouette of the mountains, the sky and the sun.

Casino of the Month
Each month we give special recognition to an online casino which has excelled. This month our online casino of choice is:
Vegas Casino Online
BONUS: 20% bonus up to $1000