Tag: steam ship
Luxury Yacht Sales DELPHINE by Great Lakes Engineering Works



07 September 2010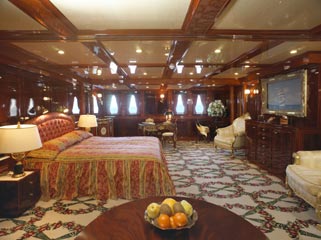 Some yachts on the water today turn heads due to their brand new construction and ultra modern styling. Others, like the Delphine, are classic yachts built many decades ago. Great Lakes Engineering, a builder located in the USA, custom made Delphine in 1921, long before superyachts were popular on the waterways.
Instead of the motor and sailing yachts you'll find out there, Delphine is a throwback in every sense of the word. This gigantic 257-foot yacht is a steam ship, comparable to legitimate steam ships of the era, and has been redesigned inside to resemble a private charter yacht.
In total, upwards of 60 people can travel aboard Delphine comfortably – 28 guests and 32 crew members. It takes a lot of manpower to run this retro steam ship. When it was built for multi-millionaire Horace Dodge in the 1920s, SS Delphine was the biggest private ship in the world. Today it has stiff competition but still manages to rank among the largest private yachts.

Casino of the Month
Each month we give special recognition to an online casino which has excelled. This month our online casino of choice is:
Vegas Casino Online
BONUS: 125% deposit bonus