Tag: nevada
The Valley of Fire Tour in Vegas



02 September 2011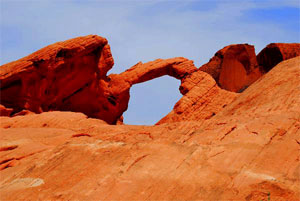 The Valley of Fire is Nevada's oldest state park and a trip to this amazing place will take you through some fantastic scenery including incredible rock formations and color reflections on the eroded sandstone through the valley that will simply take your breath away. The sand dunes here are as ancient as time is itself leaving you feeling very small indeed. People call the Valley of Fire an 'awe inspiring' and it really is just that.
Just 50 miles from Las Vegas the valley is 150 million years old and was named the 'Valley of Fire' because when the sun hits these ancient rocks it often gives the impression that the whole valley is on fire. Touring through it is like going back in time, 3000 years back in fact.
The tour encompasses authentic Pueblos, pottery, baskets, arrowheads, tools along with other ancient artifacts and the Great Anasazi – the 'Lost City'. Once the spiritual centre of these great people, driving through it you understand why it was, and you will certainly come away having had a spiritual experience yourself. Over centuries nature has carved the sandstone rocks into unbelievable shapes that are a photographers dream.
The Exotic Driving Experience at the Las Vegas Motor Speedway



01 September 2011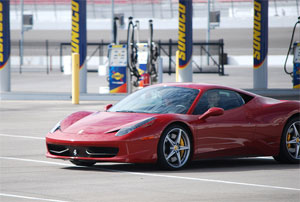 The Las Vegas Motor Speedway is every driver's dream place. This motorsports facility is bursting at the seams with just about everything you would ever need to satisfy your lust for speed in the car of your dreams. It boasts four driving schools, ten racing venues and seating for over 200,000 speedway fans. There are 1,400 'event days' organized at the speedway every year making it one of the most popular venues for fans and speedway organizers alike.
Being ideally situated close to Las Vegas, it is owned by Speedway Motorsports, Inc, the leading promoter of motorsports entertainment in the whole of the United States. They incidentally, own a lot more tracks all over the States but the exotic driving experience that is organized at the Las Vegas speedway track offers customers the opportunity of a life time, to drive a fantastic car around one of the best speedway tracks that can be found.
Researchers are not happy that Nevadans are top Twitter users



21 August 2011
Is it the researchers or the Nevadans who are 'not happy' when it comes to the subject of not only being ranked as the top of Twitter users, but also now being ranked as the most miserable state in America?
You can read a lot on the Internet about the State of Nevada being the top ranking Twitter user then you find out how a Cambridge University doctorate student did an in depth study into the fact that they are indeed the highest ranking Twitter users. His results show that although Nevadans are the tops when it comes to using Twitter, what they actually write about definitely does not rate as 'happy thoughts' – but is this all actually true?
Along with the university student there has been another research carried out by an Aussie engineering student. His research was based entirely on information he gathered from Twitter itself. His conclusion was that Nevadans were the top Twitter users but not only was this fact now confirmed (again) he then also stated that they were the unhappiest state in America. As an aside the happiest state was Tennessee.
Las Vegas Earth Hour



19 August 2011
For a second time since Earth Hour first started, Las Vegas told the world that it cared about climate change. In startling darkness the normally super-lit city plunged into darkness at 8.30 pm to join forces with other cities all over the globe and on seven continents and be seen (or not) as caring about energy conservation in Nevada.
For many who were just arriving the normally glitzy, illuminated 'Welcome to Fabulous Las Vegas ' wasn't turned on to bid them welcome and this was met with surprise and disappointment, especially because many first time visitors could not take any of the photos they had planned to get of the city.
Many residents knew something was different about Vegas but even though there were many lights turned off at the well known venues and casinos in the city it wasn't until it was explained to them what was happening that they agreed that it was a good thing for the city to do. Many residents thought Earth Hour in Las Vegas was 'really cool' and a few thought the organizers should do it every evening which is if you think about it is a better than good idea.
Las Vegas International Tattoo 2011 at University of Nevada



01 July 2011
Choosing to hold the Las Vegas International Tattoo 2011 at the University of Nevada is one of the best venue choices that could have been made. Superstars have played to massive audiences at this venue with great success. Names like Elton John, Billy Joel, U2, Van Halen, Whitney Houston, Tina Turner to name but a few have performed at the University over the past 20 years or so and audiences have gone wild at every event.
The Tattoo 2011 took place in the Thomas & Mack Center which is one of the largest indoor arenas found in Las Vegas. It sits proudly in the grounds of the University of Nevada as is named after two very prominent bankers, E Parry Thomas and Jerome Mack. These two bankers originally funded the feasibility and land studies for the arena project. It is now home to the UNLV men's basketball team and the National Finals Rodeo is also held in the stadium every year.
Major Attractions Surrounding Las Vegas - Gold Butte Back Country Byway



28 July 2010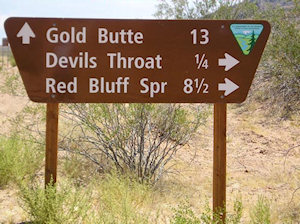 There's certainly no shortage of sights to see if you're ever planning to make a trip to Las Vegas. The surrounding areas are scenic and historic, and anyone thinking that Vegas is a desert wasteland has simply never been there to experience the "portal to the west" feel of the land. The Gold Butte Back Country Byway is consistently one of Vegas' most traveled roadways.
Gold Butte was a mining town established in the early 1900s. It was essentially part of the Old West atmosphere and only had around 1,500 residents in its heyday. This makeshift town was never meant to be a permanent home for people. The miners and their families were looking to strike it rich and jump over to California. The entire town was made up of tents and a few buildings.
The Gold Butte Back Country Byway is named after this town, but travelers of this scenic route get to experience much more than the remnants of one of Vegas' oldest mining towns. Altogether, it usually takes a scenic driver about 5 hours to travel the 62-mile stretch of road. It is also suggested that drivers take a truck or a high-clearance vehicle, as not all the road is smooth sailing.
Major Attractions Surrounding Las Vegas - Mummy Springs



20 July 2010
There aren't many places to walk to in seclusion if you're in Las Vegas. With the many restaurants, shops, casinos and other large buildings in the metro area, Sin City is basically the city life on steroids. Outside of the city, however, is a different story. The Clark County area offers plenty of hiking locations for visitors, including the popular Mummy Springs.
Mummy Mountain stands tall as the second highest peak of the Spring Mountain range in Nevada. It got its name due to resembling a sarcophagus of ancient Egypt. Mummy Springs is a trail found further down the mountain and makes for great hiking that even beginners can enjoy without having to worry about hardcore climbing.
Mummy Springs is a quaint location prized by the locals and a favorite of pet owners. Many people walk their dogs up the trail, so much so that there had to be laws passed for having animals on the trail. If you take a dog, you must have a leash no longer than six feet. All waste must also be removed. These rules are for the other visitors' convenience.
Nevada Attractions - Humboldt-Toiyabe National Forest of Spring Mountains



17 July 2010
In recent years, Las Vegas has started to earn a reputation for the wild countryside in very close proximity. Most people think of the area round Vegas as a sprawling desert, but the southern border of Nevada is also a mountain range, and the Spring Mountains provide a lot of tourism potential, including Red Rock Canyon and other parts of the Humboldt-Toiyabe National Forest.
Due to its higher elevation and abundance of natural springs, the Humboldt-Toiyabe National Forest (HTNF) is a stark contrast to the surrounding desert only mere miles away. The mountain range is expansive and the declared national forest encompasses 6.3 million acres of green forestland and is the largest National Forest in the country outside of Alaska.
One of the most unique aspects of Vegas' National Forest is that it's not a continuous stretch of mountain. Instead, the entire forest area is spread out all over the southern part of the state and even parts of eastern California. All in all, there are 10 separate ranger districts scattered across miles, including the popular Santa Rosa Range.
Major Attractions Surrounding Las Vegas - Bitter Springs Back Country Byway



15 July 2010
Nevada is absolutely jam packed with hundreds of tourist destinations, especially around Las Vegas. The desert oasis full of casino resorts is great for the gambling types out there, but Vegas and the surrounding area presents a tourist's paradise in terms of scenery and historic locations. Driving the Bitter Springs Back Country Byway, tourists get to see a lot of what the area offers.
Anyone planning on venturing to Nevada to cruise this strip of land should know that it's an unpaved road that can get a bit rough at times. It's certainly not a drag strip and all motorists should take it easy and enjoy the scenery. It should take anyone about 2 hours to fully enjoy the scenic tour, although the byway isn't that long.
Also, your run-of-the-mill rental car probably isn't going to make the trek. This byway is something that needs to be planned out and not simply a route you can stumble across. You should have a high-clearance vehicle, a truck or an ATV, and you should make sure to bring some supplies just in case of a breakdown.
Major Attractions Surrounding Las Vegas - Hoover Dam



13 July 2010
Nevada is far from the barren wasteland that some visitors of Las Vegas may think it to be. In fact, all the glitz and glamour of the city is possible because of the powerful Colorado River that runs through the state. That water is held off by the Hoover Dam, and besides also functioning as a power plant, the dam also serves as one of the country's hottest tourist attractions.
The Hoover Dam is located in the south of Nevada and shares a border with Arizona. The dammed water from the Colorado River creates Lake Mead (Nevada) and Lake Mohave (Arizona). Motorists can't miss it on highway US 93.
Hoover is absolutely huge, standing 726 feet high and covering 1,244 feet in length. The structure is what's known as a concrete arch-gravity dam, when it was built, it was years ahead of its time in terms of construction and sheer scale. The project was originally known as Boulder Dam.
Las Vegas Attractions - Southern Nevada Zoological-Botanical Park



04 July 2010
Every major tourist attraction city in America has some type of zoo or botanical garden facility. It's a family-friendly and informative experience for people of all ages, and Las Vegas is no exception. Although Vegas' zoo has a fancy name, the Southern Nevada Zoological-Botanical Park, it's still a basic zoo and operates as a nonprofit organization.
With all the many casino resorts in Las Vegas, one might expect any zoo in the city to be a large, lavish piece of property with thousands of exotic animals from all over the globe. However, the Nevada Zoological-Botanical Park only covers a very small 3 acres and is a relatively small facility that mostly houses animals that can thrive in the dry climate.
From the outside, the zoo is very whimsical and even a bit outdated in terms of everything that surrounds it. The low faded walls are painted yellow and green, and the actual "Zoo" sign looks like something from a 1960s casino on The Strip. The inside of the facility is kept nicer, at least, and the animals are cared for by well-trained staff.
Another Top Ten Things you Must do in Las Vegas



24 September 2009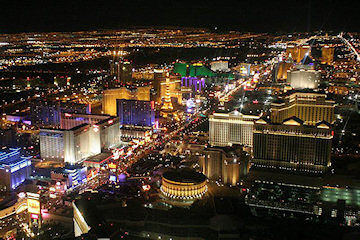 Las Vegas, Nevada is the single-most popular gambling city in the world. Also known as Sin City, it's also a place where adult entertainment options are in no short supply. Whether visitors are looking to party, gamble or simply see the sights, Vegas is the type of city that offers up choice in abundance. They may catch a bad rap, but there are some family-friendly options if you'd prefer.
The vast majority of Vegas travelers are there for one reason and one reason alone: gambling. That still doesn't mean vacationers can't check out other must-see things in Vegas. Here's a list of ten popular locations to give you some ideas.
One: Emeril's
Vegas is packed full of all-you-can-eat buffets and 99-cent shrimp cocktails, but every once in a while, vacationers want some world-class cuisine. This is where Emeril's comes in. Emeril Lagasse is one of the best chef's in the world, and his restaurant at the MGM Grand is a true delight.

The oldest casino in Las Vegas, The Golden Gate Casino



21 May 2008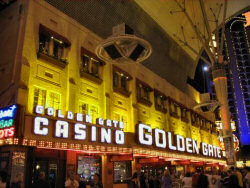 When you're in Las Vegas, odds are you're there to gamble. Not many people pay attention to other aspects of Vegas. To stop and look at Vegas as a whole, many would notice that it's dry, dirty, hot, and extremely expensive.
The euphoric rush which takes over while gambling and partying often blinds individuals to the current state of affairs. But let's face it, we all love to gamble. And some places in Vegas do have more appeal than others.
Though some people may rather stay in places like the Bellagio and Caesars Palace, the Golden Gate Hotel & Casino really tells the sordid story of Vegas, and people still frequent its small quarters.