Tag: davis cup
Stefan Edberg is one of professional tennis's greatest legends



05 September 2009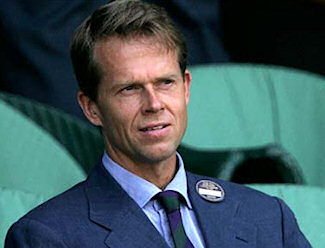 Born in Vastervik, Sweden on January 19, 1966, Stefan Edberg is one of professional tennis's greatest legends. Throughout the course of his illustrious career, Edberg accumulated over $20-million (USD) in prize money. He accomplished this large sum by holding a career record of 806-270, for a winning percentage of 74%, and winning 42 titles, including 6 Grand Slam singles and 3 Grand Slam doubles. Edberg was one of the foremost advocates of the serve-and-volley style in the game; a style which is popular in today's tennis.
Stefan Edberg first caught the world's attention in 1983. Still a teenager, Edberg was a force on the junior circuit. He won all four major Grand Slam events that year, and immediately decided to turn pro. Throughout his young career, Edberg had taken a liking to playing doubles as well as singles. Not many tennis players are accomplished at both games, but Edberg was intent on playing both the singles and doubles bracket in tennis. This paid off immediately after Edberg won his first doubles title in 1983, the same year he turned pro.
King of serve and volley Pete Sampras



11 September 2008
Born August 12, 1971 in Washington, D.C., Pete Sampras is a former professional tennis player. Sampras is the third son of Sam and Georgia Sampras, Greek immigrants, and often considered to be the greatest tennis player in history. From a very early age, Sampras displayed signs of outstanding athletic ability.
A young Sampras would discover a tennis racquet in his parents' basement, and spend hours a day hitting the balls against the wall. At only 7 years of age, Sam and Georgia moved the entire family to Palos Verdes, California, so their son could develop his talent for tennis in a warmer climate.
Shortly after the move in 1978, The Sampras' joined the Peninsula Racquet Club, where young Pete's talents would become evident to everyone. At the ripe young age of 11, Sampras had already learned the solid serve and the volley tactic, which would become the trademark of his tennis game.
Tags:
pete sampras
,
palos verdes
,
peninsula racquet club
,
andre agassi
,
john mcenroe
,
ivan lendl
,
wimbledon
,
davis cup
,
pistol pete
,
Posted in:
Sports Events
,
Biographies
, |
Comments (0)