Tag: david blaine
Dirk Arthur's Xtreme Magic Brings Big Scale Illusion To The Tropicana Vegas



31 March 2010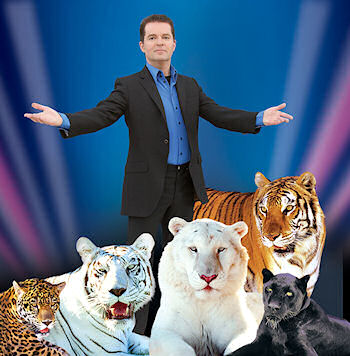 Illusionists are some of the best-loved magicians in the world, especially when they do their illusions on a large scale. Some of the illusions by David Copperfield, for instance, have literally become things of legend – like making the Statue of Liberty disappear. Following in those same footsteps, Dirk Arthur brings his style of magic to Las Vegas.
Now playing at The Cellar at the Tropicana on Las Vegas Boulevard, Xtreme Magic is a big-scale illusion show starring the incomparable and highly talented Dirk Arthur. Throughout his career, Dirk has become braver and bolder with his illusions, and for something done on a medium-sized stage in Vegas, Dirk has no equal.
Dirk Arthur isn't as widely popular as some other illusionists in the game, like Chriss Angel and David Blaine, but he does bring something to the table that's always been a huge hit in Las Vegas: Cats. That's right; like Seigfried and Roy before him, Dirk performs with beautiful tigers on stage.
Top Vegas Shows - Lance Burton one of the worlds few true magicians



09 February 2010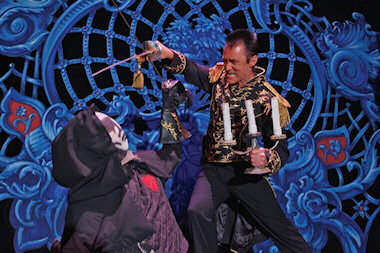 Todays magic seems to be missing something very important: the actual magic. With magicians out there like Criss Angel and David Blaine, the televised feats of death-defying mysticism seem all-too accessible to the average magic fan and far-too Hollywood-like in their special effects to be considered anything remotely magical by those with a proclivity to be left in awe of the feat and not the performance. This brings us to one of the worlds few true magicians, in the purest sense of the word, Lance Burton.
For a dozen years now, Lance Burton has been playing shows at the Monte Carlo in Las Vegas; and while his ticket sales may have taken a hit when Criss Angel waltzed into town with his wildly sporadic rendition of a Cirque du Soleil show with added illusions, all those wanting to watch real magic still gravitate to Lance Burton.
Displaying a hidden rabbit may literally be old hat, but in comparison to the overcompensating and less than gratifying reveals of the big-named magicians, Lance is a pure sip of magic in an industry laced with watered-down imitators.

Casino of the Month
Each month we give special recognition to an online casino which has excelled. This month our online casino of choice is:
Vegas Casino Online
BONUS: 125% deposit bonus