Tag: bulgari
Bond Street London's Most Elegant Shopping Experience



14 June 2010
Bond Street has a long history of being one of the foremost shopping locations in all of London. Oddly enough, however, there is no actual Bond Street to be found. It's more of a nickname that survived the times and was picked up due to the southern section being known as Old Bond Street and its northern counterpart known as New Bond Street.
The street runs through Mayfair from Piccadilly on the south end and up to Oxford Street in the north. This large shopping area is located in London's posh West End shopping district, and it easily beats Regent Street in terms of high-end boutiques and clientele. Bond Street has been a fashionable shopping experience in London since the 18th century, and it continues on today.
Bond Street was named after Sir Thomas Bond, a developer who purchased property in the area. Bond would immediately begin demolishing the mansion he purchased and building up the area, including the nearby Albemarie and Dover Street. It wasn't long until the area (Old Bond Street) was completed and shops started to open up.
Tags:
gucci
,
london
,
bulgari
,
de beers
,
sotheby's
,
bonhams
,
winston churchill
,
sir thomas bond
,
albemarie
,
armani
,
dkny
,
lawrence holofcener
,
franklin d. roosevelt
,
Posted in:
Luxury Brands
,
Travel
,
Fashion
, |
Comments (0)
World's Top Watchmakers - Bulgari



17 June 2009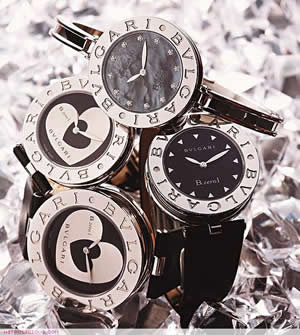 A good watch is often considered to be one of the finest instances of craftsmanship on the planet. The best watches, the timeless classics, can cost a small fortune. They're more than timepieces; they're small marvels of human ingenuity that you can't rightly put value on.
One of the world's finest watch brands is Bulgari. For over 100 years, Bulgari has been a driving force of innovation in the watch-making world. Their brand has expanded to include clothes, other jewelry, fragrances, and more, but to most, they'll always be craftsmen of fine timepieces.
Although their brand is pushing over 100 years old, their legacy dates back thousands of years. The Bulgari family is a direct descendent of an ancient line of Greek silversmiths. If predisposition plays any factor at all in the way people live their lives, the Bulgari's were destined to be craftsmen.
Tags:
monte carlo
,
geneva
,
paris
,
bulgari
,
watches
,
luxury
,
craftsmanship
,
innovation
,
bvlgari
,
greek silversmiths
,
sistina
,
roma
,
condotti
,
jewelry
,
new york city
,
ergon
,
diagono
,
assioma
,
zero
,
timepieces
,
Posted in:
Luxury Brands
, |
Comments (0)

Casino of the Month
Each month we give special recognition to an online casino which has excelled. This month our online casino of choice is:
Vegas Casino Online
BONUS: 20% bonus up to $1000