Tag: andros trophy
Biography of Alain Prost, The Professor



30 September 2008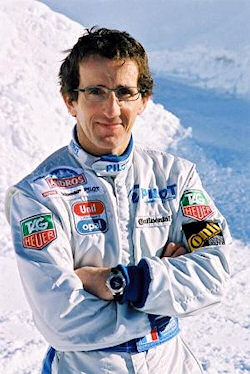 Born February 24, 1955 in Loire, France, Alain Prost is a former Formula One racecar driver. Prost is a four-time F1 Drivers' Champion, and held the record for most Grand Prix victories from 1987 until 2001 when Schumacher passed the total of 51 victories. In 1999, Prost received the World Sports Awards of the Century in the category of motor sports.
During his career, Prost competed in 202 Formula One races, starting 199. His four championships dominated the mid-80s and early 90s, winning in 85, 86, 89, and 93. Prost also held pole position 33 times, earned 106 podium finishes, and accomplished all of this in a 13-year career (1980-1993). Like the majority of successful F1 drivers, Prost honed his talent for driving at a very young age.
During a family holiday when Prost was 14-years-old, he discovered karting. Seeming to have a natural talent behind the wheel, Prost created a buzz among his age group, and proceed through the junior ranks of motor sports, winning the European and French Formula Three championships.
Tags:
alain prost
,
ayrton senna
,
formula one
,
nigel mansell
,
mclaren
,
nelson piquet
,
world sports awards
,
williams team
,
french ligier
,
andros trophy
,
Posted in:
Biographies
,
Formula One
, |
Comments (0)